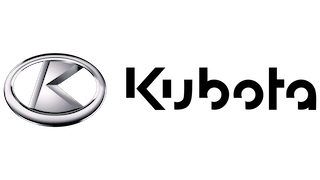 Cline Agro Services Inc. a local place to purchase your specialized equipment.
If you are looking for a piece equipment, attachment, or utility vehicle that is not visible on our website please feel free to check out the Key Ag Kubota link as we are a satellite dealer for them and would be happy to bring it in for you.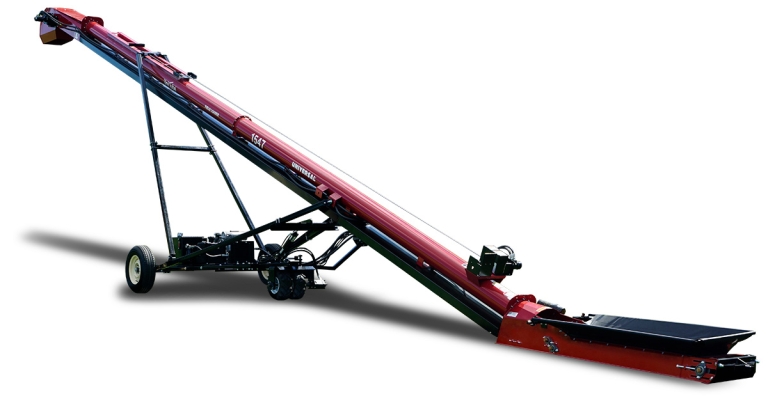 Uni Tube Self-Propelled Field Loader -1500 Series
1500 Series with gas powered self-propelled kit. The Self-Propelled Kit features a self-contained hydraulic self-propel package that allows control of all field loader functions, including steering to easily maneuver and drive your field loader across the ground. It also allows hydraulic running of the belt and raising and lowering to the appropriate filling height, all from the same valve as the steering and propel functions. Length of 47′ (19′ Discharge height) with 15 inch belt. Up to 7500 bushels per hour capacity and a 26.5 HP Kohler fuel injected gas engine.
Please call for price.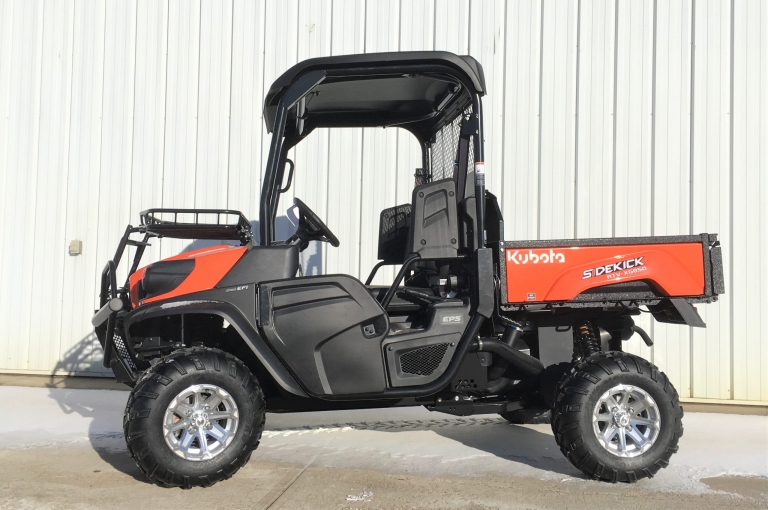 Kubota RTV-XG850
Built around a quick and powerful 48 HP gasoline engine, the Sidekick is a multipurpose utility vehicle that is ready to take on any task.  With is centrifugal clutch you are ensured a fast response and rugged durability along with a 40 mph transport speed. The standard equipment speed sensitive 45A EPS (Electronic Power Steering) keeps you safe and stable even when traveling at high speeds across uneven ground. Plus, the independent suspension delivers a smooth ride with plenty of clearance.
Please call for price. SOLD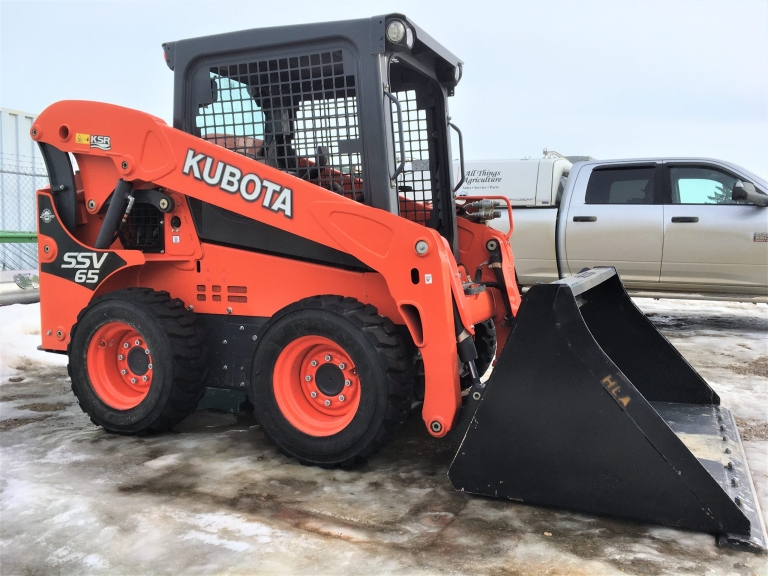 Kubota SSV64 Skid Steer Loader
SSV65 open cab skid steer loader has 64 HP, rated operating capacity of 1950 lbs., bucket breakout force of 4839 lbs. and operating weight of 67690 lbs. Fast and smooth operating response with Kubota's unique vertical lift design. Standard two speed travel with heavy duty tires and high ground clearance. The interior of this machine boasts excellent 360 degree visibility, 12V power outlet, suspension seat, cup holder, front post switch panels, rear view mirror and ample legroom. The rear door opens wide, providing access to all components for your daily routine inspection. There are also a wide variety of attachments available for your jobsite.
Please call for a price.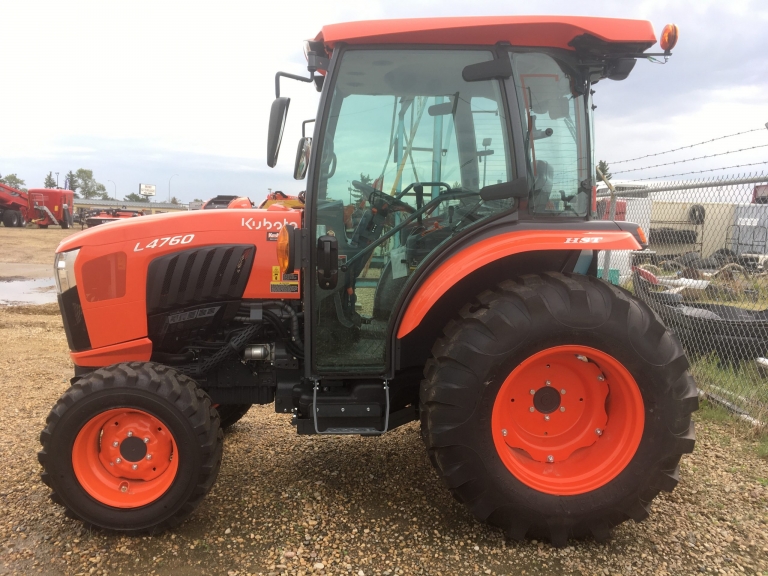 Kubota L4760 Tractor with cab.
A new spacious cab with rear window defogger, rear wiper and rear working lights. AC/Heater with internal and external ventilation, 12 volt power outlet, 130 Amp Alternator  and Deluxe High-back reclining seat with swivel function.  L 4760 series -Engine Gross Power HP 49.0, Engine Net Power HP 47.0, PTO Power FST/GST HP 41.0, PTO Power HST HP 39.5. State of the art PTO and hydraulic system engineered to deliver power and reliable performance. Designed to give you the utmost control and maximum versatility to ensure a smooth and effective operation. 4-Wheel Drive – Provides superior pulling power and traction. The front wheel drive bevel gear delivers a smooth and full power transfer. Combined with its 55″ steering angle and compact differential, the 4-wheel drive gives you the maneuverability and exceptional clearance you need for a wide range of applications. The 3-Point Hydraulic Cylinders  – external lift cylinders deliver an impressive 3-Point Hitch lift capacity. The  system is externally mounted for easy maintenance. Optional attachments available. Please phone for price or additional information.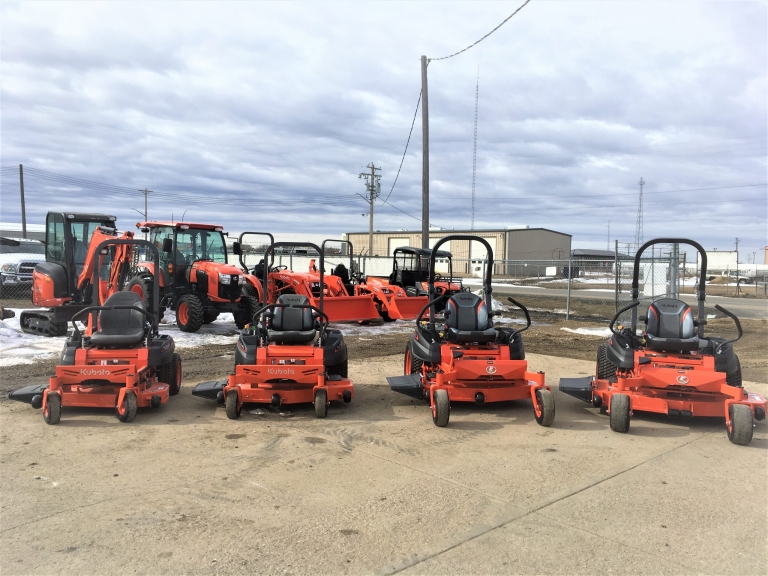 Brand: Kubota Z231 BR with 48″ mower deck or Kubota Z231 KW with 42″ mower deck series. These are equipped with high back seat that slide a full 6″ forward and back, a wide foot pan, cup holders and LED headlights. Dual operation levers provide smooth, precise control to work around trees and flower beds. The Deep welded mower deck provides outstanding professional level cutting performance. Mower deck adjusts to 1/4″ increments in height with a simple dial and a K-lift one push deck lift pedal. All controls and indicators are neatly placed for quick, easy, user friendly access.
Price: Please phone for prices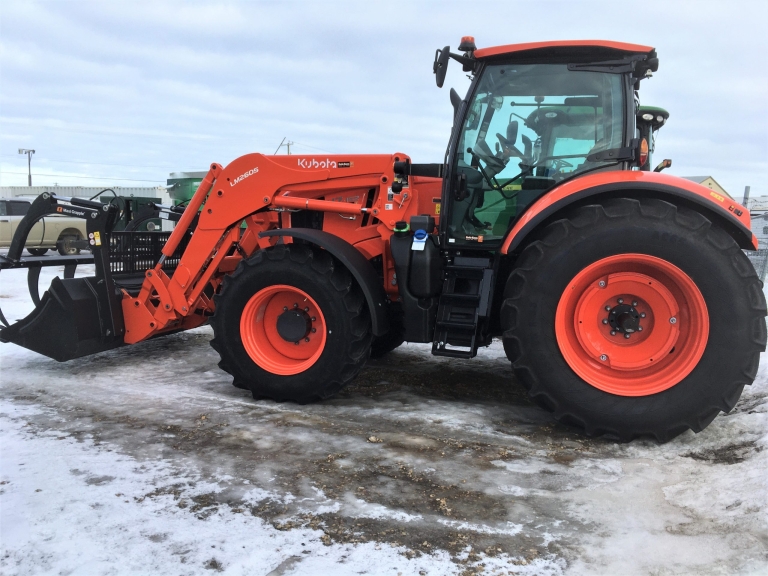 Brand: M7-152 Tractor with LM2605 loader with 96″ bucket and grapple
M7-152 comes with a direct injection with intercooler turbocharger, water-cooled 4 cycle 150 HP diesel engine. Rated PTO HP is 120 @ 2000 engine rpm. 30 speed Semi-Powershift transmission provides an even greater range of forward gears letting you find the right gear for each job. The KVT transmission offers better shuttle response to let you find the ideal speed for the job at hand. This transmission is also stronger, with a tractor permissible weight of 11.5 t, allowing you to use larger implements and improving reliability. You never have to leave the cab to adjust the hydraulic flow rate with the conveniently located flow rate adjustment dial inside the cab. Comfort is important when you are spending hours inside your tractor. The M7 comes with a spacious cab, deluxe seat with adjustments and a high performance heating, ventilation and air conditioning system.
LM2605 advanced loader system features: Kubota Z-Bar linkage mechanical self-leveling, single lever hydraulic valve quick coupler, quick attachment and detachment, Kubota shockless ride, third function valve and euro quick coupler.
Price: Please phone for price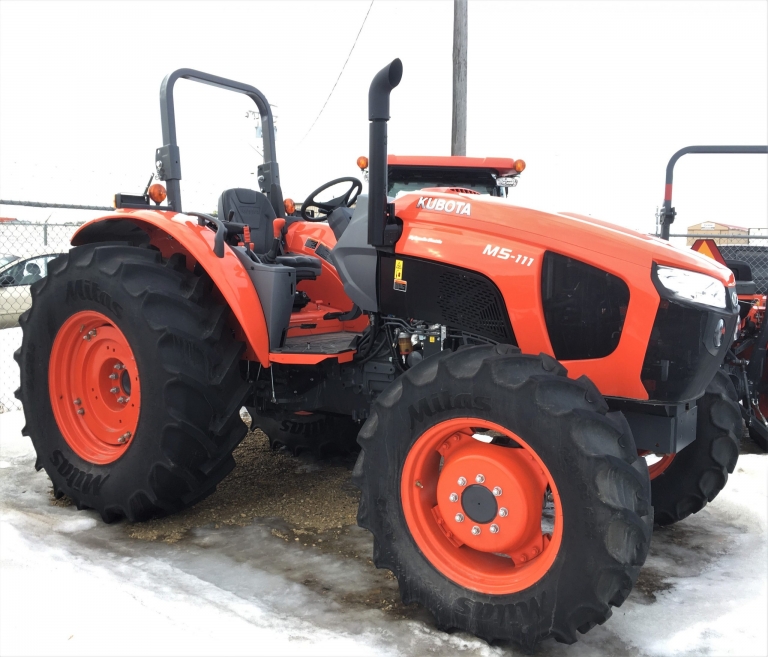 Brand: M5-111 open cab SOLD
M5-111 – 100 HP engine, 4 cylinders in-line, Common Rail System, direct injection, with intercooler, DPF, DOC and SCR meeting the emissions regulations. The M5-11 engine features a new electronic governor that gives you electronic control of engine RPM. Activating the system keeps engine revolution constant, preventing drops in PTO speed and enabling stable operation which this unit has a 89 HP PTO. RPM memory lets you save the RPM setting for an oft-performed task such as PTO work, front loader work or changing directions with a touch of a single button. For heavy duty work such as plowing, hay work and heavy trailer applications the M5-111 is equipped with a F12/R12 transmission. This transmission features 6 speeds of main shift and high/low range giving it a total of 12 forward and 12 reverse speeds. Our Electro Hydraulic Shuttle for the M5-111 makes shifting between forward and reverse smooth and quick. With the Hydraulic Shuttle, a column mounted lever, located next to the steering wheel, productivity is boosted by eliminating the need to depress the clutch every time you change directions. 4WD engagement is easy and quick, and done with one simple lever. The M5-111 comes with powerful and fast acting hydraulics, PTO lever located inside the cabin and a bevel-gear front axle enabling a tighter turning radius plus many more features.
Price: Please phone for price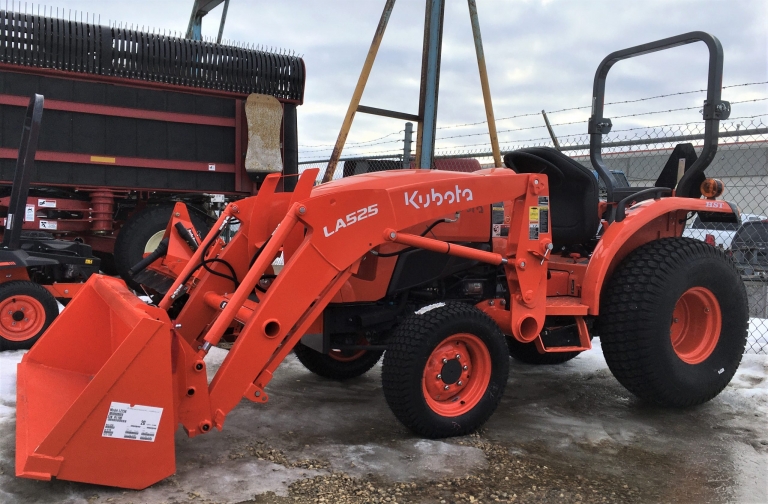 Brand: Kubota L3901 Diesel Compact Tractor with L525 loader 4WD
L3901 has a 39 HP direct injection, vertical, water-cooled 3 cycle diesel engine, 30 HP PTO, easy to use Hydrostatic transmission. Semi-flat operator station with ergonomic controls, suspension seat and an easy to read dash panel. Made of strong cast steel axles and rear end housing along with steel hood and fenders create a tough, durable tractor that is sure to provide years of use, even in the toughest job conditions.
L525 Loader: Maximum lift height at pivot pin of 94.3″, lift capacity at pivot pin of 1490 lbs. and breakout force of 2462 lbf.
Price: Please phone for price