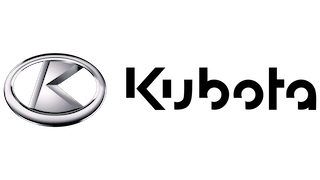 Cline Agro Services Inc. a local place to purchase your specialized equipment.
If you are looking for a piece equipment, attachment, or utility vehicle that is not visible on our website please feel free to check out the Key Ag Kubota link as we are a satellite dealer for them and would be happy to bring it in for you.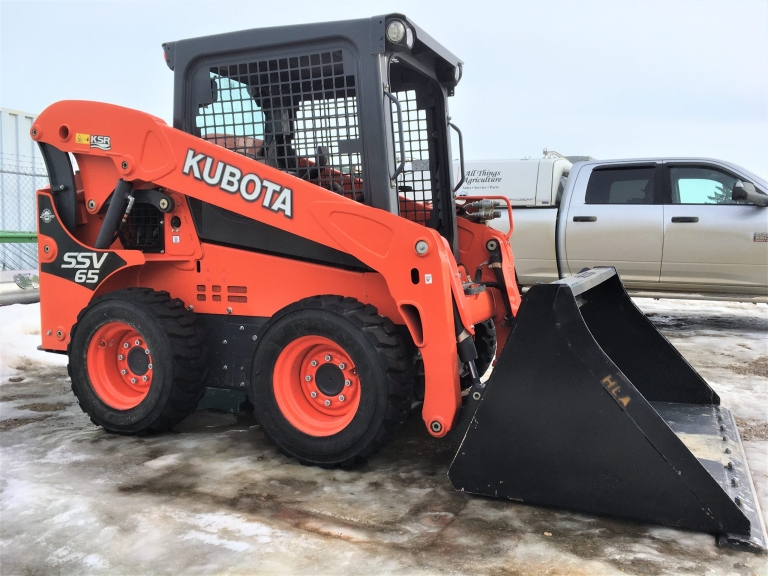 Kubota SSV65 Skid Steer Loader
SSV65 open cab skid steer loader has 64 HP, rated operating capacity of 1950 lbs., bucket breakout force of 4839 lbs. and operating weight of 67690 lbs. Fast and smooth operating response with Kubota's unique vertical lift design. Standard two speed travel with heavy duty tires and high ground clearance. The interior of this machine boasts excellent 360 degree visibility, 12V power outlet, suspension seat, cup holder, front post switch panels, rear view mirror and ample legroom. The rear door opens wide, providing access to all components for your daily routine inspection. There are also a wide variety of attachments available for your jobsite.
Please call for a price.
Kubota BX23S Tractor with Front Loader and Backhoe
The BX23S tractors come with a liquid cooled diesel 3-cylinder engine, 21.6 HP, 17.7 PTO HP and HST transmission. These handy tractors are easy to use, simply press the pedal forward to go forward and press the pedal backwards for reverse. The Kubota Swift-Connect Backhoe is designed to tackle tough digging jobs. Both loader and backhoe can be easily removed and installed without using tools. Optional mid-mount mower decks and available front hitch makes the BX Series equipped to handle most any task. Please give us a call if you have any questions.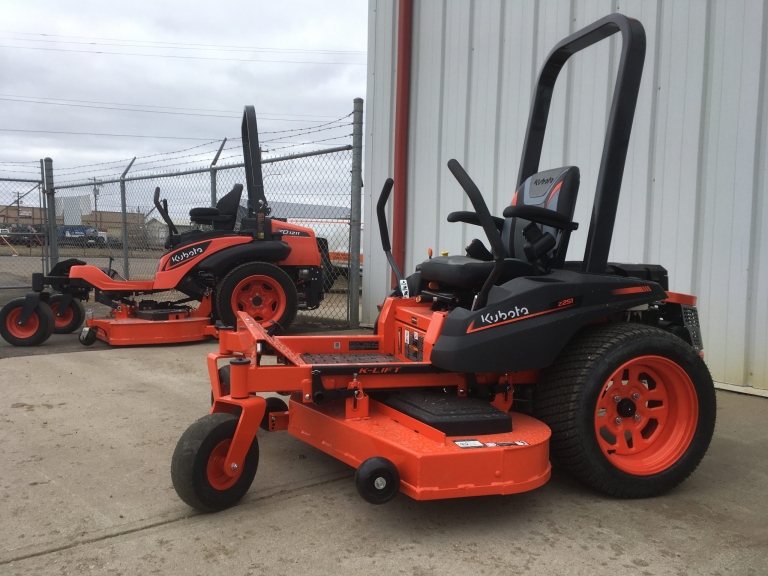 Brand: Kubota Z251 BR with 54″ mower deck or Kubota Z231 KW with 42″ mower deck series. These are equipped with high back seat that slide a full 6″ forward and back, a wide foot pan, cup holders and LED headlights. Dual operation levers provide smooth, precise control to work around trees and flower beds. The Deep welded mower deck provides outstanding professional level cutting performance. Mower deck adjusts to 1/4″ increments in height with a simple dial and a K-lift one push deck lift pedal. All controls and indicators are neatly placed for quick, easy, user friendly access.
Price: Please phone for prices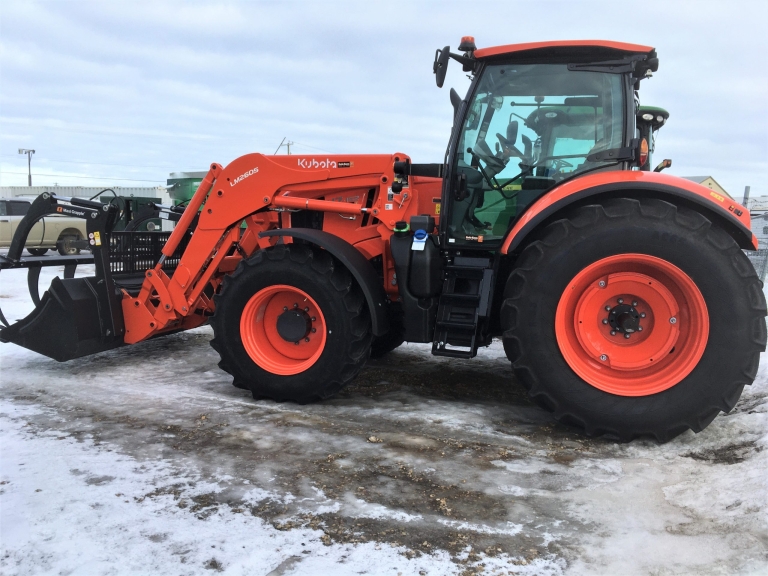 Brand: M7-152 Tractor with LM2605 loader with 96″ bucket and grapple SOLD
M7-152 comes with a direct injection with intercooler turbocharger, water-cooled 4 cycle 150 HP diesel engine. Rated PTO HP is 120 @ 2000 engine rpm. 30 speed Semi-Powershift transmission provides an even greater range of forward gears letting you find the right gear for each job. The KVT transmission offers better shuttle response to let you find the ideal speed for the job at hand. This transmission is also stronger, with a tractor permissible weight of 11.5 t, allowing you to use larger implements and improving reliability. You never have to leave the cab to adjust the hydraulic flow rate with the conveniently located flow rate adjustment dial inside the cab. Comfort is important when you are spending hours inside your tractor. The M7 comes with a spacious cab, deluxe seat with adjustments and a high performance heating, ventilation and air conditioning system.
LM2605 advanced loader system features: Kubota Z-Bar linkage mechanical self-leveling, single lever hydraulic valve quick coupler, quick attachment and detachment, Kubota shockless ride, third function valve and euro quick coupler.
Price: Please phone for price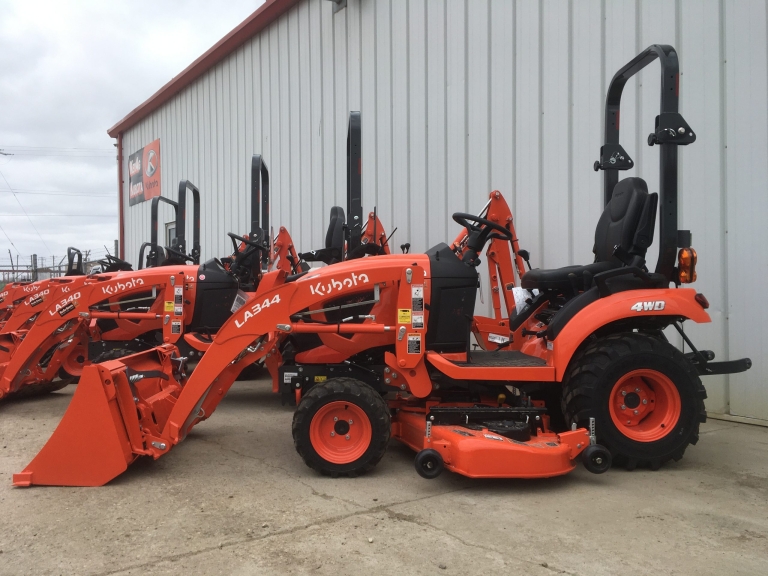 Brand: Kubota BX2380 Sub Compact Tractor
BX1880 are made for easy operation, superior comfort, and simple operation. With an overall height of 7′ the BX1880 can park easily in your garage. Equipped with a Hydrostatic Transmission the BX series tractors are easy to use, simply press the pedal forward to go forward and press the pedal backwards for reverse. The BX2380 has a 21.6 HP liquid cooled diesel 3-cylinder engine with a 17.7 HP PTO. This handy little tractor has many attachments making it very versatile for an acreage owner.
This unit has a 60″ Drive over deck and a BX80 w/QC Bucket
Price: Please phone for price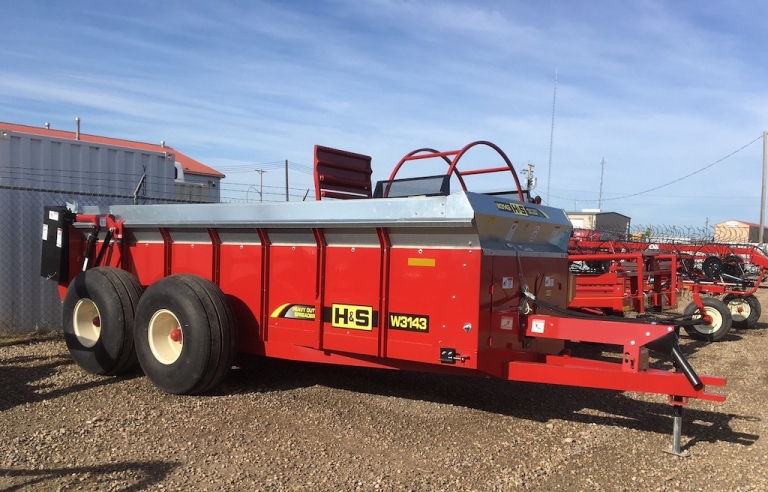 Brand: H&S Heavy Duty Manure Spreader SOLD
H & S rugged dependability! 430 Bushel, Oil bath gear box that powers the beater is tapered Timken roller bearing equipped. Utilizes a 4-jaw beater shut off clutch and tractor sized spline shaft. Side flares on all models are made of 10 gauge G210 culvert grade galvanized steel.
Smaller ground driven, more compact manure spreaders available as well.
Price: Please phone for price